A New Line of Premium Mushroom Teas
Over the years in cultivating and creating our brand, we dreamed of creating a new line of premium mushroom-focused teas. The years of research, testing, and patience have paid off.
We are proud to announce Bravo Mushroom Wonders Teas. Our full line of premium quality, mushroom teas is different from any other that you'll find on the market today.
Mushroom Wonders Teas
The Chaga mushroom has been used for centuries as an herbal tea remedy in Asia, Europe, and North America. Our Chaga mushrooms grow wild on the bark of
mature birch trees in Siberia's cold climate. Warm up your morning with a cup of Chaga.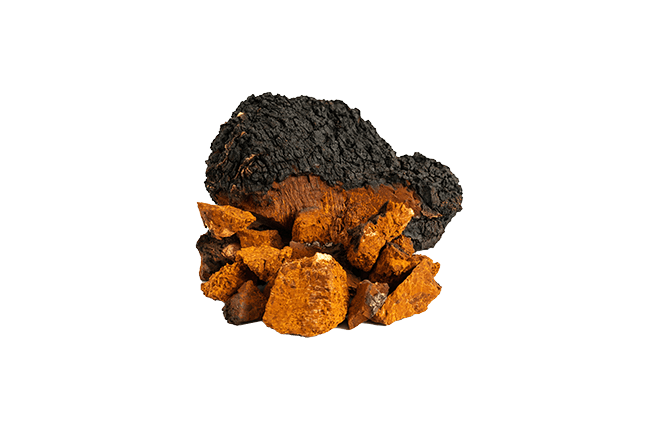 ---
Treasured in Asia for its nourishing properties, maitake is thought to invigorate and fortify the body's natural processes. Maitake was so valuable during the feudal ages
in Japan that the mushrooms were used as money or exchanged for silver. Enrich your day with a Maitake break.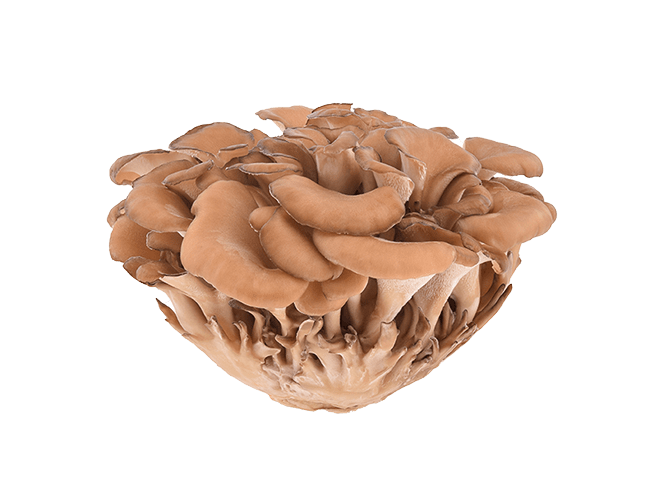 ---
The colorful rings of the Coriolus mushroom mimic the feathers of a turkey's tail. Brewing Turkey Tail mushroom as a tea unlocks its rich nutrition to revitalize your spirit and provide vital energy when you need a boost.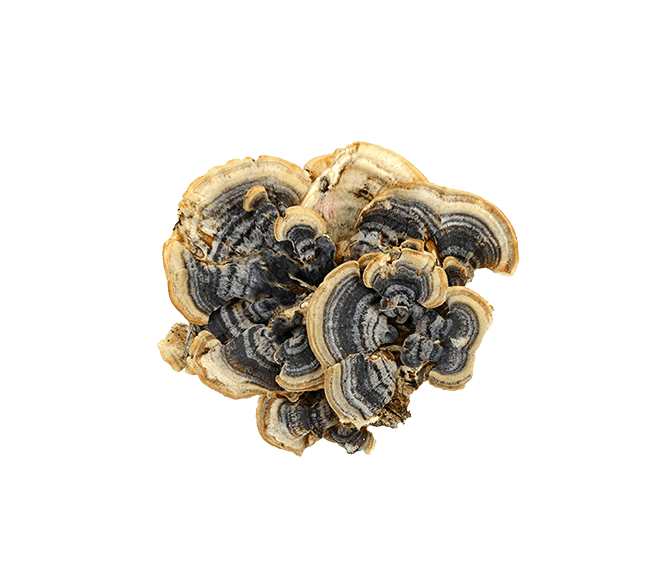 ---
Reishi has been hailed as "the mushroom of immortality" and "the medicine of kings" since ancient times. Reishi was so rare that only Chinese nobility had access to
the mushroom before it became cultivated. Make reishi tea your daily ritual for balanced days and relaxed nights.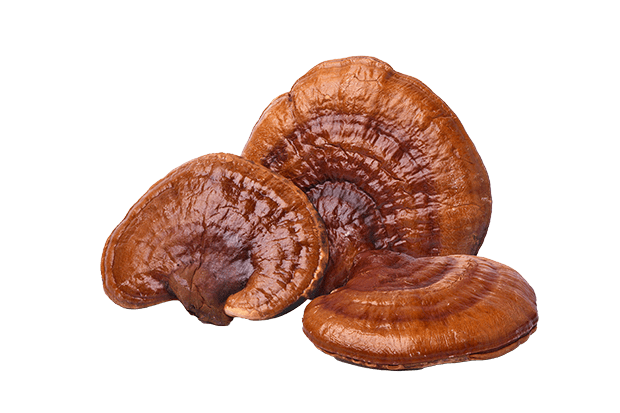 ---
With humble beginnings as a Himalayan folk remedy, Cordyceps is now world renowned for its unique benefits. Treasured in both herbalism and culinary traditions with its pleasant savory flavor, Cordyceps tea will stimulate your taste buds.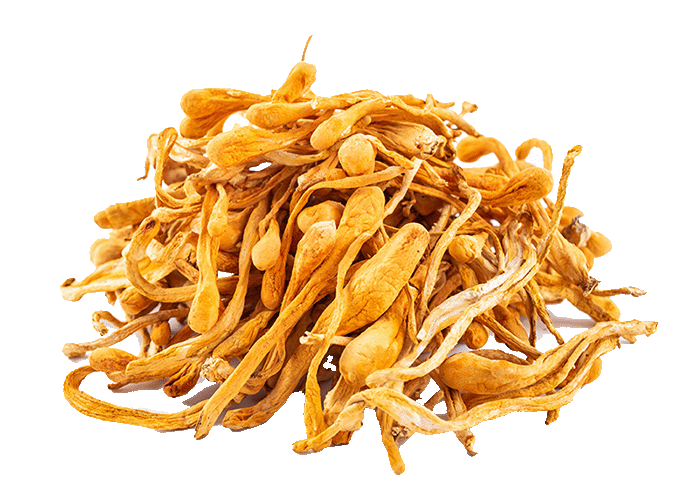 ---
Lion's Mane is a rare, beautiful organism native to North America and Europe. Rich with nutrition that is unlocked when cooked, Lion's Mane is the perfect companion for caffeine-free focus.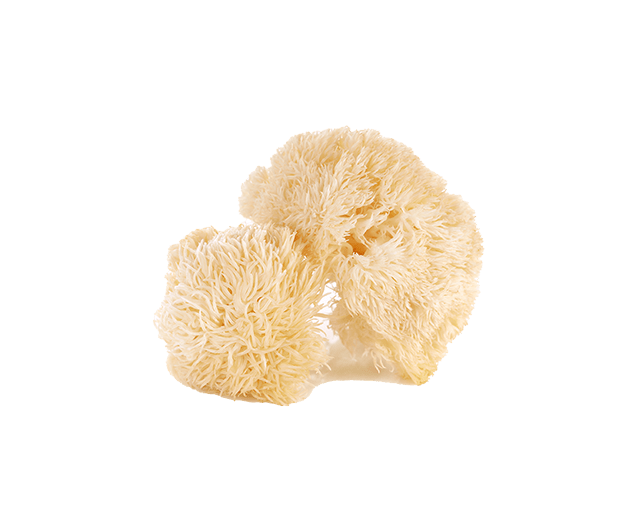 ---
Bravo's special blend of Chaga, Reishi, Maitake, Turkey Tail, Cordyceps, and Lion's Mane delivers powerful adaptogens and antioxidants in a delicious blend. This daily tea helps cover all your needs with its rich host of nutrition including immunity, mood, energy, digestion, gut, and liver health.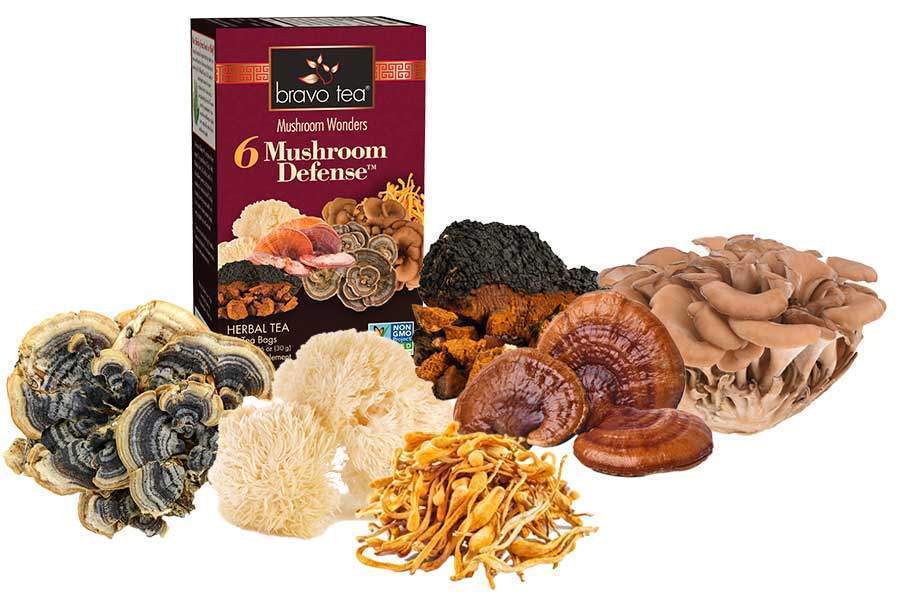 ---
What Makes Bravo's Mushroom Wonders Different?
It's become easier to find mushroom-based products, even at your local grocery store. Even so, when it comes to traditional herbs not all products are created equal! Functional mushrooms are a recent trend in the North American, but they've played crucial roles in the herbal traditions of cultures across the world for centuries.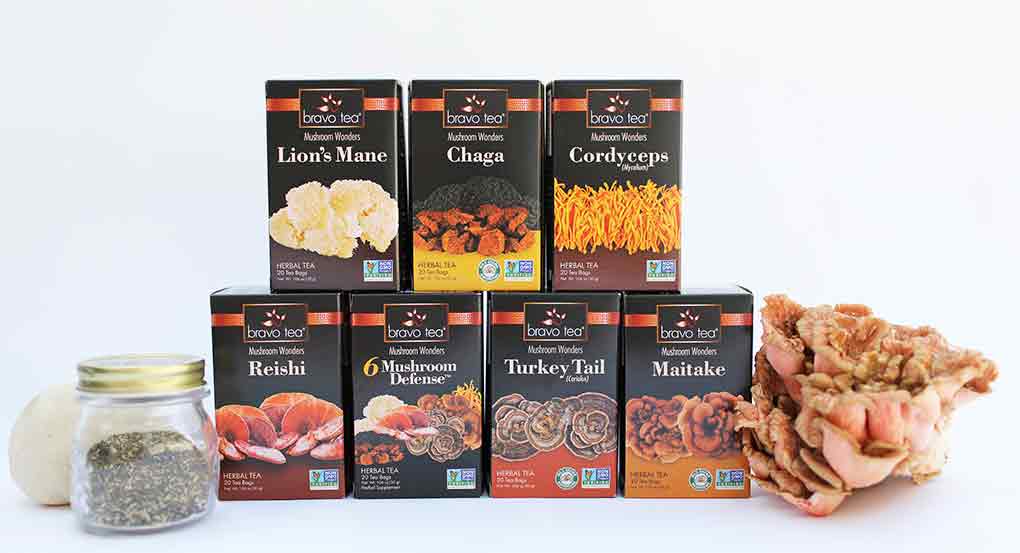 Whole Mushroom Extract vs Freeze Dry
Many of the mushroom drinks that you'll find on the market today don't contain whole herbs or mushrooms. Using the same process that makes instant coffee, mushrooms and other herbs can be made into a crystalline, sandy substance. Freeze drying herbs is a fine way to preserve nutrients and make ingredients last a long time. However, (anyone who's had instant coffee can tell you) there's one major drawback to this method- the flavor! Certain freeze-dried ingredients- especially mushrooms, can take on a more bitter and less earthly flavor than whole or less processed ingredients.
Flavor and Potency
Flavor is important for mushroom tea because some mushrooms can be bitter. Using a process called hot water extraction, we start with our premium quality mushrooms to create a potent and flavorful blend. This method not only has the benefit of making the mushrooms more palatable, but also concentrates the healthy compounds of the mushrooms. Goji leaf is added for natural flavor, which makes the teas taste great and even provides a bit of immune support. No synthetic additives, flavors, or colorants are used. The result is a tea that tastes better than freeze dried products and is more potent than whole mushrooms alone.
Better Price AND Better Quality
Another reason why brands might choose freeze-dried mushroom product is that it's much less expense than the real thing. It's a way to get some of the benefits and cache of the ingredient without the sometimes heavy price tag that comes along with buying the real ingredients. Not only do we use premium quality mushrooms for our products, but we also offer them at a similar price point as our other herbal teas without the high markup that other brands charge for functional mushrooms.
Bravo Tea's Stewardship
We aim to create quality teas, but our larger goal is stewardship of rare and authentic herbs from around the globe. Did you know that 15,000 medicinal plant species (Roberson, 2008) are currently threatened with extinction across the globe?
The potential loss of rare herbs on this scale is culturally devastating, with literal centuries of herbal traditions lost. It could also mean that the world could lose future pharmaceuticals usages – up to one major drug every two years (Roberson, 2008)! Many pharmaceutical drugs are created from humble weeds and the study of these plants are a major concern for researchers around the globe. Everything from the way we choose our ingredients to how our final products are made have the traditions and the urgency of habitat loss in mind.
Authentic Herb Specialists
We don't just buy herbs to put in our products. Whenever possible, we grow wildcrafted herbs on our own farm. If we can't do that, we rely on a network of small farms around the world to source only the best herbs grown in their natural habitat.
Herbs grown outside of their natural habitat can lose potency over generations, which is one reason for our discernment in growing and sourcing ingredients.

Expertise in Herbalism
Something that the average consumer (or even natural products enthusiasts) might not know, is that functional herbs have many subspecies and varieties, even within the same family of plants. To further complicate the matter, most herbs have different common names depending on where in the world they're being used.
What does that mean? An inexperienced person or company could easily choose the wrong herb for their intended goal. They might not realize that in some traditions, even different parts of the same plant can have different applications and different names.
Our interest and knowledge in herbal traditions is a heritage passed down by generations from our family. However, we are constantly learning and improving our products and processes. Larger brands don't always have the expertise needed to even identify premium ingredients, let alone the patience to cultivate their own.
Truly Premium, Truly Wild Ingredients
Our dedication to tradition and quality means that our products are the most authentic and highest in potency compared to competitors. The flavors and the experience of our teas are the closest you'll get to a blend made by a real herbalist- except they're available at your local grocery store!
References
Roberson, E. (2008). Nature's Pharmacy, Our Treasure Chest: Why We Must Conserve Our Natural Heritage: A Native Plant Conservation Campaign Report.