Coriolus- Turkey Tail Mushroom
Native to Asia, North America, and Europe, turkey tail (coriolus) was a key element in many indigenous herbal traditions.
The colorful rings of the coriolus mushroom mimic the feathers of a turkey's tail. In Japan, it's known as "cloud mushroom" or kawaritake because of its elegant, curved lobes.  Brewing Turkey Tail as a tea unlocks its rich nutrition. More than a simple mushroom, Eastern Herbalism places high on value Turkey Tail as an agent to revitalize the spirit and vital energy.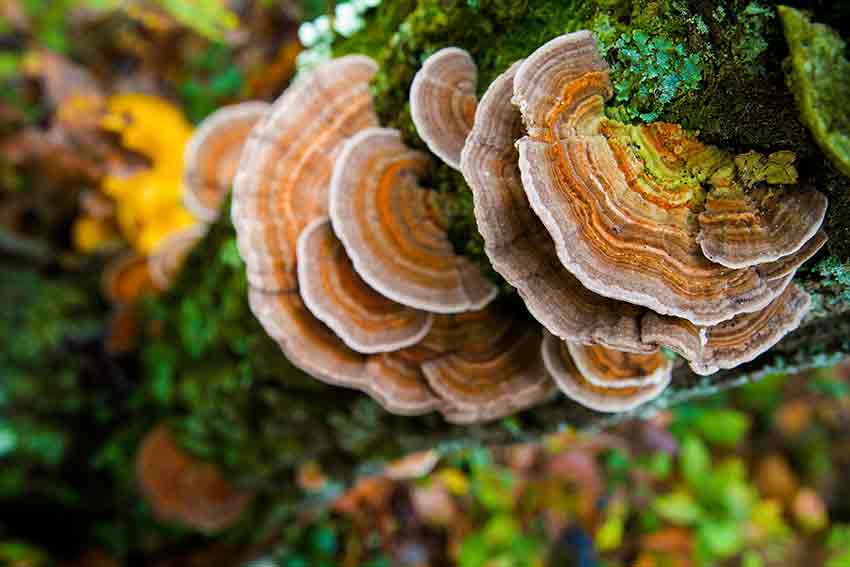 Botany Facts
Coriolus is considered a bracket fungus. Although the term "fungus" doesn't sound appealing, something worth noting is that ALL mushrooms are in the Kingdom Fungi- not just coriolus. Coriolus can be found growing on trees and fallen logs across much of the Northern Hemisphere. It forms cup shaped growths as it expands, each new layer with different colored stripes. The striped cups grow outward creating feather or fan shaped structures which helped the mushroom gain it's more common name- turkey tail. It's also known by its most recent name trametes versicolor.
Coriolus has small pores on that appear on the underside of their structure which is the reason for its family name, polyporaceae. The spores that the plant uses to reproduce are made inside of the tiny pores. When it's ready, the mushroom will release its spores and the wind carries them to a new place to start a new colony.
History of use
The first European to "discover" turkey tail mushroom was Carl Linnaeus- a Swedish botanist, in 1753. However, the use of the Coriolus mushroom goes much further back to ancient medicine practices in Asia with one of its first appearances in a Chinese medical text from around 200 BC. The Cao Ben Tang Materia Medicina discussed healing properties for bones and tendons along with supporting the body's vital energy known as Qi (pronounced like CHEE). Another key aspect of coriolus' benefits was the support of Shen, Chinese Medicine's understanding of the soul or spirit.
Traditional Modalities using Coriolus Mushrooms
In Traditional Eastern Herbalism, Coriolus is called Yun Zhi. The flavor profile of the ingredient falls into both the bland and sweet categories. The liver, spleen, and lung meridians are the systems most affected by Coriolus. It's a "cold" temperature herb known to invigorate the spleen while quelling "dampness" throughout the body. Eastern Herbalism uses coriolus for several health aliments including soothing coughs and the lungs for conditions like asthma.
Key Nutrition and Bioactive Compounds of Coriolus Mushrooms
Polysaccharides
Polysaccharide-Peptides
Polysaccharide-Protein Complexes
β-Glucans
Antioxidants
Sterols
Terpenoids
What Makes Turkey Tail Mushrooms Healthy?
One of the reasons mushrooms have exploded in popularity in recent years is their impressive and unique nutrition. The main components of coriolus are carbohydrates, minerals, and vitamins. As we will see in some of the recent scientific research below, polysaccharides are one of the top carbohydrates responsible for many of the amazing reported health benefits of coriolus mushrooms. Polysaccharopeptides- (often abbreviated to PSP) and the polysaccharopeptide krestin (PSK) are two of the best-known and often most biologically active polysaccharides seen in research surrounding the health benefits coriolus mushrooms.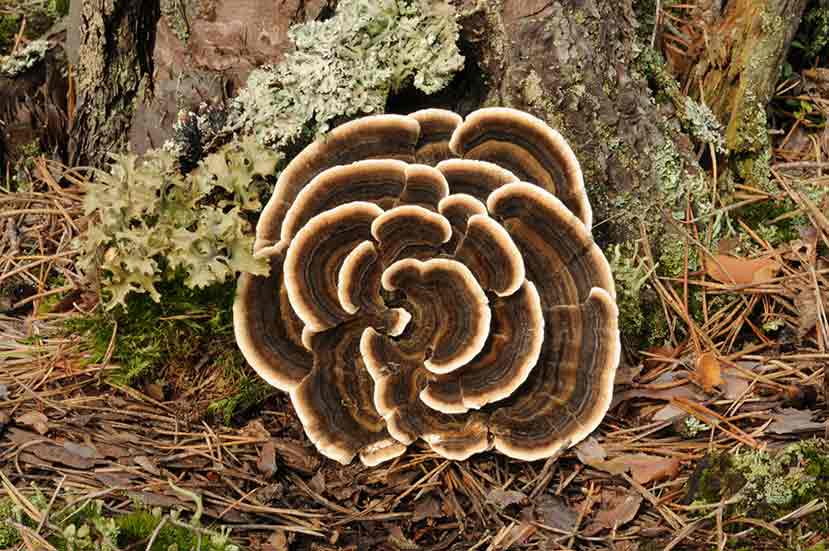 Long History of Research
While the overall nutritional makeup of coriolus has many benefits for human health, researchers have honed in on the polysaccharides from this mushroom interested in someday developing pharmaceutical therapies. In 1977, Japanese chemists and doctors created the first adjunct therapy (alongside traditional treatments) for gastric cancer patients using PSK.
Asia Leads in Chemical and Medical Research of Traditional Herbs
Since the clinical trials that were completed in 1987, the same therapies were adopted in China. Because of Asia's long history with traditional herbal medicines, many of the modern chemical research and health studies have started there. While we are just starting to scratch the surface of what is possible for coriolus and other traditional herbs in the context of modern medicine and science, it helps bring clarity to the use of natural herbs by humans for thousands of years.
PSP and Other Critical Compounds in Coriolus
There's compelling evidence that PSP works best in helping to support biological immune activities, making it a perfect companion to those suffering with other diseases like cancer. In fact, has even been shown to help fight viral activity for those undergoing chemotherapy. But we will touch on that more a little later.
Other notable bioactive compounds from coriolus include glucans, coumarins, isoflavonoids, bioflavonoids, phenolic acids, flavanols, and flavones.
Top Science Backed Benefits of Coriolus
Immune Support
Antimicrobial
Insulin Regulation / Healthy Blood Sugar Metabolization
Healthy Digestion
Immune Support
In one study, the goal was to put the alleged immune supporting properties of coriolus to the test. In recent years, many in the scientific community have been looking into traditional herbs- particularly those used in Traditional Eastern Herbalism, for their impressive bioactivity. One of the most important qualities of medicinal mushrooms is their use for supporting the immune system. Due to this research, in Asia, many cancer patients are given coriolus extracts as complementary medicine during their chemotherapy treatments.
The two main bioactive components that researchers looked at in this study were polysaccharopeptides (PSPs). Research revealed that the way coriolus tends to boost immunity is through its PSP content. PSPs help increase immunopotentiation- or the shift towards boosted immune response. It also creates a pro-inflammatory cytokine profile in the body- which is excellent for the immune system. Pro-inflammatory cytokines support immune response on a cellular level and are key for response to threats to the immune system.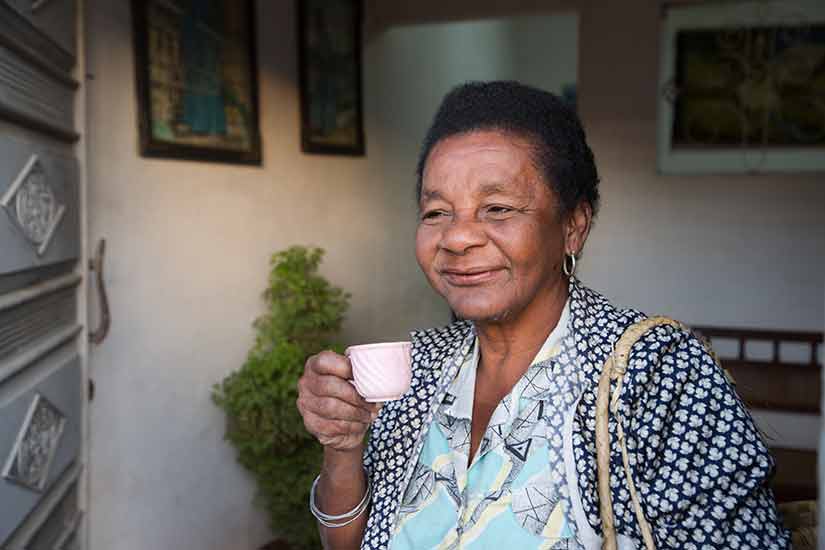 Anti-Bacterial
A Serbian study observed the antibacterial activities of an extract from coriolus versicolor. Using a group of bacterial strains commonly involved in food poisoning, researchers concluded that extracts of coriolus versicolor have potential as a natural preservative. The study looked at how much the extract could affect bacteria such as E.coli and Salmonella. The coriolus extract was most effective in killing S.epidermic bacteria and least effective in killing L. monocytogenes. The researchers could see that the extract damaged the cell envelope of the bacteria. Overall, more research is needed to understand the full mechanism of how coriolus worked to kill bacteria, the research shows that the extracts were high in β-Glucans, polysaccharides, and other phenolic compounds.
Diabetes Research
Type 2 diabetes is one of the most common diseases in the modern world, especially in North America. When someone has type 2 diabetes, their body is less able to create insulin, causing insulin resistance. Along with insulin resistance, obesity becomes a related issue for those with type 2 diabetes. Obesity and insulin resistance are closely related.
One important nutritional component found in coriolus is ternatin, a heptapeptide. Ternatin works by reducing fat accumulation on the cellular level, reducing cellular lipid (fats) accumulation. The research also showed that the ternatin compound also lowered glucose and triglycerides.
Healthy Digestion
One very interesting study out of the Netherlands postulated that one of the ways coriolus mushrooms works to support human health is because of the way it stimulates and supports the microbiota of the gut.
Once again, researchers noticed that PSP was one of the top active compounds alongside fructooligosaccharides, abbreviated as FOS. FOS is already a known prebiotic, and prebiotics work by helping the growth of beneficial bacteria and fungi in the gut.
PSP and FOS increased levels of healthy gut bacteria like lactobacillus and bifidobacterium, which you may be familiar with from common probiotic supplements found at health food stores. Supporting healthy bacteria levels and reducing unhealthy bacteria like staphylococcus and clostridium are one way coriolus helps the immune and digestive systems.
Not only does this mean that coriolus could provide benefits for healthy gut health, but the benefit to the microbiota helps to support the overall health of the body, helping to explain one of the reasons why the mushrooms seem to have so many different health benefits.
Coriolus Mushrooms, the Food of the Future
Coriolus is rich with bioactive compounds making them proven health boosters in many areas. Recent research helps us understand why humans have used and evolved alongside mushrooms since ancient times. We discussed many studies which could someday lead to new medicines and overall understanding of natural ingredients for supporting health. Furthermore, this research also helps indicate that dietary supplements containing coriolus may be helpful for human health. Anyone can enjoy the healthy benefits of coriolus mushrooms with delicious and easy to use teas every day.
References
Matijašević, D., Pantić, M., Rašković, B., Pavlović, V., Duvnjak, D., Sknepnek, A., & Nikšić, M. (2016). The antibacterial activity of Coriolus versicolor methanol extract and its effect on ultrastructural changes of Staphylococcus aureus and salmonella enteritidis. Frontiers in Microbiology, 7.
Dou, H.; Chang, Y.; Zhang, L. Coriolus versicolor polysaccharopeptide as an immunotherapeutic in China. Prog. Mol. Biol. Transl.Sci. 2019, 163, 361–381.
Yu, Z. T., Liu, B., Mukherjee, P., & Newburg, D. S. (2013). Trametes versicolor extract modifies human fecal microbiota composition in vitro. Plant foods for human nutrition (Dordrecht, Netherlands), 68(2), 107–112.
Saleh, M. H., Rashedi, I., & Keating, A. (2017). Immunomodulatory Properties of Coriolus versicolor: The Role of Polysaccharopeptide. Frontiers in immunology, 8, 1087.\
Bains, A., Chawla, P., Kaur, S., Najda, A., Fogarasi, M., & Fogarasi, S. (2021). Bioactives from Mushroom: Health Attributes and Food Industry Applications. Materials (Basel, Switzerland), 14(24), 7640.