The Natural Product Industry's Top Publication
Every time get to work with WholeFoods Magazine, it's a treat! WholeFoods Magazine is the top business to business publication in the natural products industry.
Its goal is education and it's one of the places for those in the natural products world to find the best new products and learn about the industry's ever-changing standards. For more than 35 years, the publication has been sharing the industry news and insights we need to know to run our businesses well.
Over the years, the organization has grown to include multi-media communications. These days, business owners (and natural product enthusiasts) can also learn from the WholeFoods Natural View podcast, video productions, web exclusives on www.WholeFoodsMagazine.com, and more.
We rely on the expert opinions from the industry's top professionals and learn about the current trends in the world of dietary supplements, natural foods, and the natural beauty sector.
WholeFoods Magazine Fall Sample Box
WholeFoods Magazine Sampler program is an amazing way for retailers to try all the latest and greatest products that their customers are looking for. During 2020, all our industry events like The Natural Products Expo had to be cancelled. Trade shows and industry events are crucial for natural products retailers, because it's how they connect with brands, learn what customers are looking for, and very importantly- receive sample products from the hottest vendors.
The absence of these important events was the driving force behind this initiative according to publisher Heather Wainer.
"One of the many opportunities retailers are lacking now is samples, which they depend upon. We knew we had to help here. After some work, we've found the right way to do it, and are ecstatic that we can provide a sample box filled with new and old favorites to 300 of our readers for free."
What's in the Box
The Fall Sample Box features some of the latest and past favorites from popular brands like Once Again, Move Ease, and Bravo Tea.
Mushroom Wonders 6 Mushroom Defense Tea
One of our proudest new achievements- 6 Mushroom Defense combines the top ingredients for adaptogen and antioxidants into one delicious daily tea! With 6 of nature's most nutritious mushrooms- Chaga, Reishi, Maitake, Turkey Tail, Cordyceps, and Lion's Mane. Unlike other mushroom teas, 6 Mushroom Defense also contains three key herbs, treasured in herbal traditions for centuries for their health supporting properties- roasted organic eleuthero leaf, organic astragalus root, and organic solomon's seal rhizome. Since our new Mushroom Wonders line was released in 2022, we are already getting glowing feedback from our fans!
A Powerful Blend of Authentic Herbs
Reishi
Reishi has a fascinating history, and its popularity goes back thousands of years. Each year we learn more about reishi mushroom's benefits for health and wellness
Maitake
Treasured in Asia for its nourishing properties, maitake is thought to invigorate and fortify the body's natural processes.
Cordyceps Mushroom Mycelium
Cordyceps is an amazing source for healthy nutrients and has a naturally pleasant flavor. One of the first cultures to embrace cordyceps were the ancient Himalayan people.
Lions Mane
Lions Mane mushroom is one of nature's most unique mushrooms. This rare mushroom is treasured across North America and Europe for its beauty and health benefits.
Solomon's Seal Rhizome
Solomon's seal rhizome was an important part of herbal traditions not only in Asia, but also in North America. This legendary herb is loaded with healthy benefits.
Astragalus Root
Astragalus root is a unique super-food that is one of the most popular herbs globally. It's known as huang qi or "yellow leader" in China because it's one of the top herbs used in traditional herbalism.
Eleuthero Leaf
Eleuthero leaf is one of the many parts of the plant that are used in herbal recipes. It's known to have adaptogenic qualities, thought to bring natural stasis to the body.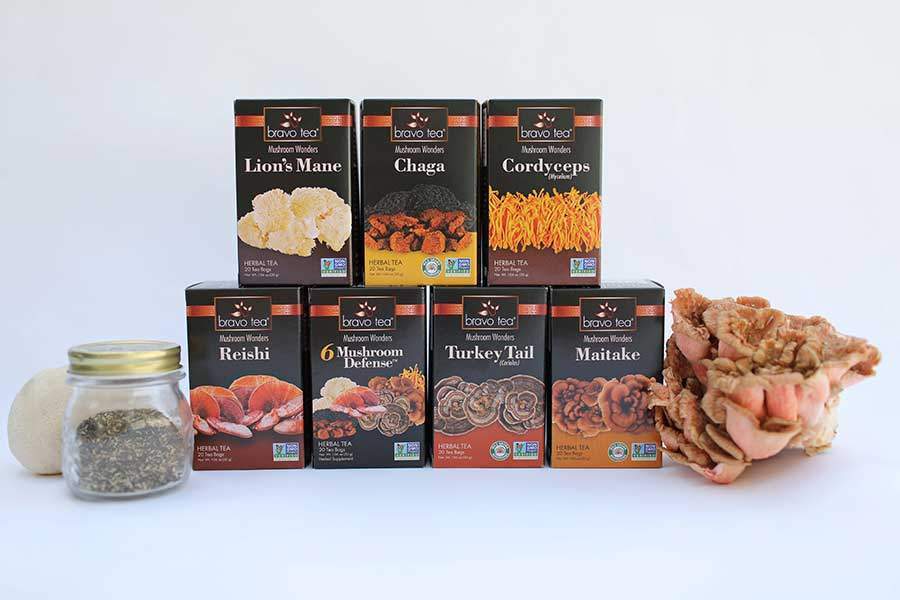 What makes 6 Mushroom Defense better than competitors?
Hot Water Extraction
We were excited to create a new line of mushroom teas because we knew that our unique extraction method would help create something really special. Our hot water extraction process is a modern take on a traditional method for concentrating the healthy compounds in herbs. Our extraction process ensures that you get a concentrated amount of healthy compounds from every herb.
Better Flavor
An added benefit of this process is neutralizing the flavors of some of the more bitter tasting mushrooms and herbs. There are myriad benefits of medicinal mushrooms, but many of the drinks and teas that contain them don't taste great because many are naturally bitter.
Premium Quality Ingredients
Not only do we skip over freeze dried herbal ingredients, we take the time to grow our own herbs on our private farm. In addition to our vast organic farm on the Tibetan plateau (the native habitat for many of our ingredients), we source herbs from a small network of growers. Between our farm and our network of farmers we can ensure all herbs are grown properly and have the highest nutrition. Authentic recipes and real herbs are what we do best.
Bravo Tea's Deep Knowledge of Herbal and Traditional Medicine
Something that makes our brand stand out from competitors our commitment to quality when it comes to herbal ingredients. That's because our family owned brand comes from a long line of herbal experts and natural products industry professionals. Our teas are akin to the kind of special formulas you can only get from a real herbalist.