The Healthy Benefits of White Mulberry
Many Americans have memories of purple stained hands and feet on summer days from eating mulberries. Mulberry is well known in North America, but you can find different species of it all over the world.
White mulberry leaf is growing in popularity in North America because of its health benefits. While mulberry fruit from the black mulberry is treasured as a sweet treat, the leaves of the White Mulberry species are another reason the plant spread across the world.
Morus Alba is native to ancient China where it was revered in herbal medicine for its health benefits and as the main food for silkworms. The silk trade was key to China's role as an economic force in the ancient world.
White Mulberry's Value to Eastern Herbalism
Sāng Yè is the name for white mulberry leaf in traditional Chinese Herbalism. It's a "cooling" herb, thought to strengthen the Wei Qi which is the outer defense system of the body. Sāng Yè brings balance to emotions and helps govern the systems related to the Liver and Lungs.
Mulberry Trees in Britain
When the Romans invaded Britain, they brought mulberry trees with them. The leaves served medicinal purposes, such as treating diseases of the mouth and lungs. Henry VIII even had a Mulberry tree planted in his Chelsea estate. Later, King James I decided that Britain should compete with France in silk-making.
In order to accomplish this, he brought over ten thousand mulberry trees to feed the silkworms, planting some in a garden near Buckingham Palace. Yet, this project ultimately failed as he brought the wrong kind of mulberry tree.
White Mulberry in the United States
The British introduced white mulberry to North America before the American Revolution. White mulberry was first brought to America in a failed attempt to establish a silkworm industry. Since then, several varieties of this tree have spread through North America. They grow in unattended areas and open rural habitats.
Natural Health Benefits with Science Backed Research
In modern times, researchers have been interested in the purported health benefits of white mulberry leaf. Due to its complex chemical make-up, researchers have found that WM might be beneficial for its health supporting properties.
Modern research has shown how potent the herb is and how it supports and nourishes the human body. Morus alba has been used as a folk remedy for thousands of years, and this research helps explain why.
Top Benefits of White Mulberry Leaf According to Modern Science
Healthy Blood Sugar
Heart Health
Healthy Inflammation Response
Nutrition
Supporting Healthy Blood Sugar
White mulberry leaf has many properties that may help support healthy blood sugar. These include 1-deoxynojirimycin (DNJ), which prevents the absorption of carbohydrates in the gut.
Supporting Heart Health
Research suggests that mulberry leaf extract may improve heart health. One study gave people with high cholesterol mulberry leaf supplements. After twelve weeks, their bad cholesterol dropped while their good cholesterol increased.
Supporting Healthy Inflammation
The white mulberry leaf contains many anti-inflammatory compounds, including flavonoid antioxidants. Studies have shown that white mulberry leaf tea helped reduce inflammatory proteins in white blood cells.
Super Nutritious
In addition to its rich antioxidants white mulberry leaf tea naturally contains zinc, iron, amino acids, b vitamins, minerals and even bioflavonoids.
How to make White Mulberry Leaf Tea?
Herbal tea is the best way to enjoy the benefits of white mulberry. White mulberry tea is a delicious treat that anyone can enjoy and its healthy option which makes it even better!
With the abundance of the plant all over the world, you might be able to find the leaves right in your back yard.However, to protect yourself from unknown pesticides or other toxins from the soil, it's best to purchase a brand of white mulberry leaf tea that's been grown organically.
White mulberry trees that are specifically bred for food and tea are much more potent than the kind you can find in your yard and white mulberry teas are much more affordable (and more enjoyable) than expensive capsule supplements.
Supporting Heart Health
Some research suggests that mulberry leaf extract may improve heart health. One study gave people with high cholesterol mulberry leaf supplements. After twelve weeks, their bad cholesterol dropped while their good cholesterol increased. Maintaining healthy cholesterol is very important in keeping your heart healthy. With healthy cholesterol levels, your heart can better support your whole body.
Using White Mulberry Leaf Every Day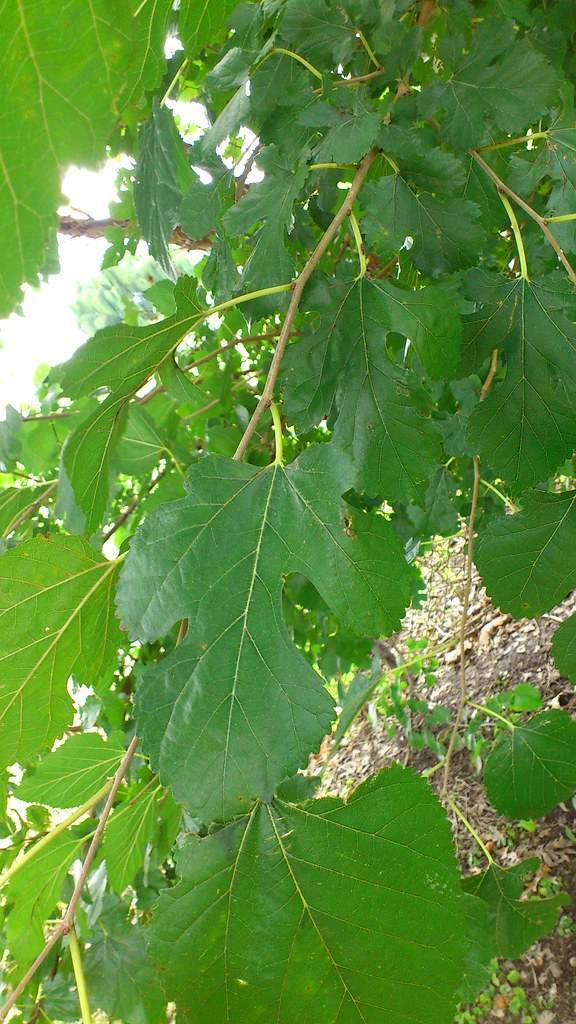 White mulberry leaf  contains powerful compounds, which could be why it's been used and respected for centuries. It's revered by modern medicine for its many health-supporting properties. Still, we are just beginning to understand the herb's potential from a scientific perspective. But anyone can enjoy a delicious cup of white mulberry tea for it's everyday health benefits.
References
Aramwit P, Petcharat K, Supasyndh O. Efficacy of mulberry leaf tablets in patients with mild dyslipidemia. Phytother Res. 2011;25(3):365-369. doi:10.1002/ptr.3270
Chao PY, Lin KH, Chiu CC, Yang YY, Huang MY, Yang CM. Inhibitive effects of mulberry leaf-related extracts on cell adhesion and inflammatory response in human aortic endothelial cells. Evid Based Complement Alternat Med. 2013;2013:267217. doi:10.1155/2013/267217
de Freitas MM, Fontes PR, Souza PM, et al. Extracts of Morus nigra L. Leaves Standardized in Chlorogenic Acid, Rutin and Isoquercitrin: Tyrosinase Inhibition and Cytotoxicity. PLoS One. 2016;11(9):e0163130. Published 2016 Sep 21. doi:10.1371/journal.pone.0163130
Kojima Y, Kimura T, Nakagawa K, et al. Effects of mulberry leaf extract rich in 1-deoxynojirimycin on blood lipid profiles in humans. J Clin Biochem Nutr. 2010;47(2):155-161. doi:10.3164/jcbn.10-53
Lown M, Fuller R, Lightowler H, et al. Mulberry-extract improves glucose tolerance and decreases insulin concentrations in normoglycaemic adults: Results of a randomised double-blind placebo-controlled study. PLoS One. 2017;12(2):e0172239. Published 2017 Feb 22. doi:10.1371/journal.pone.0172239